Άρθρο
Επιλεγμένες ειδήσεις με την συνεργασία του New Europe
With Turkey Fuming, French Frigate Patrols Off Cyprus, Energy Drilling Begins
by Kostis Geropoulos, Energy & Russian Affairs Editor, New Europe
Πέμπτη, 20 Ιουλίου 2017 - 17:15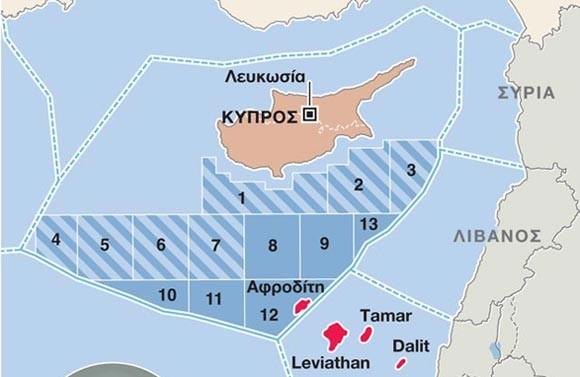 French Minister for Armed Forces Florence Parly visited Cyprus for the first time on July 17 as a consortium of France's Total and Italy's ENI begun drilling in Block 11 of the Mediterranean island's Exclusive Economic Zone (EEZ), despite threats from neighbouring Turkey.
Parly was reportedly briefed by her Cypriot counterpart Christoforos Fokaides on Total's drilling in Cyprus' EEZ. Fokaides met Parly at the Zenon crisis management centre in Larnaca, ahead of her visit to the French Navy frigate Languedoc, which is currently operating in the East Med, Cyprus Mail reported.
Cyprus government spokesman Nicos Christodoulides said on July 17 the natural gas exploration was going as planned. "There is nothing causing concern or affecting our energy planning," he said.
Meanwhile, following a session of Turkey's Security Council, chaired by Turkish President Recep Tayyip Erdogan, a statement said they had evaluated the failed Conference on Cyprus in Switzerland, stressing Ankara's determination to maintain the interests of the Turkish Republic of Northern Cyprus (TRNC) surrounding hydrocarbons in the East Med.
Turkey's seismic survey ship Barbaros was reportedly sailing some 39 nautical miles off the Paphos coast on July 17 but far from the West Capella, the drillship working for Total in Block 11.
US company Noble Energy made Cyprus' first natural gas discovery offshore in 2011. "Every time physical activity takes place in Cyprus EEZ, Turkey resorts to threats and provocations," Cyprus Natural Hydrocarbons Company CEO Charles Ellinas said. "It happened when Noble Energy was drilling in Block 12 and when ENI was drilling in Block 9 and it is happening now and very likely in the future," he added.
Turkey has warned Cyprus as well as Italian energy majors ENI and Total over offshore hydrocarbon exploration in Cypriot EEZ. Asked it the Commission is monitoring the situation and whether the EC supports Cyprus, France and Italy to drill in Cyprus' EEZ, European Commission spokesperson Maja Kocijancic told New Europe in a written response on July 19," We are aware. Channels of communication are open. Parties are aware that any kind of source of friction, which could damage the neighbourly relations, should be avoided".
Ellinas told New Europe on July 18, "Turkey's objections in Block 11 are purely in terms of protecting the rights of Turkish Cypriots, or at least that's the justification used. Block 6 is different. Turkey claims its continental shelf extends that far and claims part of Block 6 belongs to it".
Last week, Turkey said the frigate TCG Gokceada had orders to track the West Capella drillship that arrived in Cyprus' EEZ in the early hours of July 12.
On July 13, Turkey's Foreign Minister Mevlut Cavusoglu said it would take measures against Greek Cypriot exploration for oil or gas around Cyprus. He added that Turkish Cypriots had rights over those reserves.
On July 18, Greek Foreign Minister Nicos Kotzias said in Nicosia that work must be undertaken to create a new, well-prepared chance to solve the Cyprus problem. "We must work so that a new chance is given to negotiations to solve the Cyprus problem, but this chance must be well prepared and effective," he said, speaking at a news conference following a meeting with his Cypriot Foreign Minister Ioannis Kasoulides.
https://www.neweurope.eu/article/turkey-fuming-french-frigate-patrols-off-cyprus-energy-drilling-begins/